At a time when everything is going digital, not having an online footprint or an SEO and SEM plan can put your business on the back foot. If you own a new business, banking on traditional marketing will not provide the reach that online marketing can. Gone are the days when mortar-and-brick shops/offices/businesses used to grow their clientele through word of mouth. With the popularity of the Internet growing at a breakneck pace, traditional businesses are jumping on the internet bandwagon.
The traditional and modern concept of marketing is the spinal cord of a business. Earlier, traditional marketing was in hype to grow the business, but with time, things have changed drastically, and traditional marketing has been overtaken by modern marketing ways. Modern marketing not only gives faster results but also, is also useful for brand awareness. Furthermore, it has a more significant role to play in the present day, and this article precisely will give you the essence of its prime elements, such as SEO and SEM.
Pillars of Digital Marketing The pillars are the base of the structure; likewise, in digital marketing, the three prime pillars are People, Technology, and Data.
All these components are essential as people are your targeted audiences who can further get converted to customers. Similarly, data enables you to focus on the particular section of the audience for your business. At last, technology; without this, you can't even imagine the digital world.
Advantages of Digital Marketing Over Traditional Marketing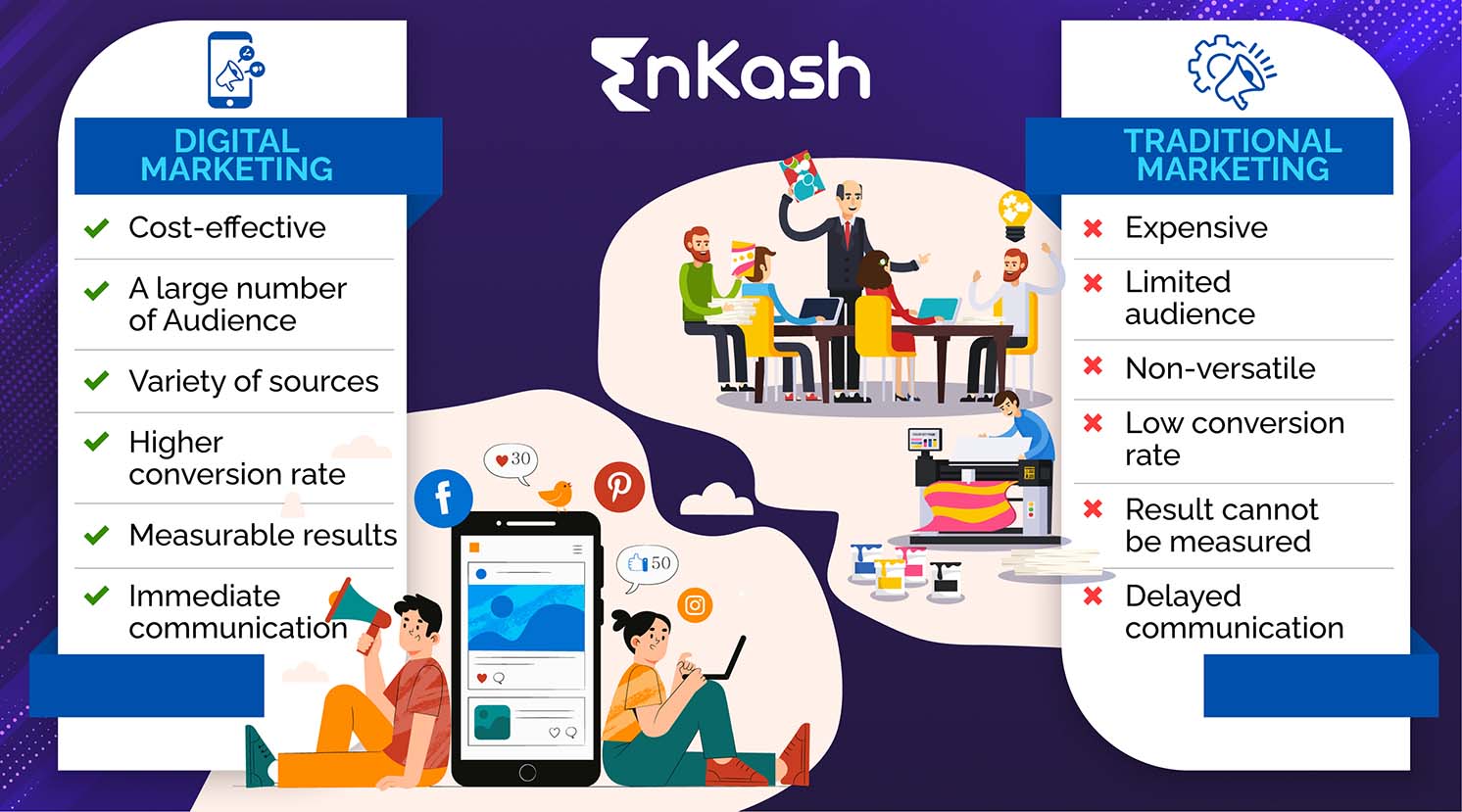 The first step to growing your business online is to have an online presence. A brand's website is the go-to place for visitors when they look for your business. Once a website is launched and the relevant details about the services and products offered are listed, it is time to make the website visible to a wider audience. There are many marketing tools to achieve the results you're looking for, the most prominent of them being SEO & SEM optimization, and they act as a brand awareness pyramid too.
Although similar in approach, both work in different ways. Some brands decide to go with one approach over the other, but over the years, both SEO and SEM have been done in conjunction for the best results.
The rise of technology-enhanced the scope of digital marketing and also increased the presence of an audience which resulted in a sharp rise in the business. In short, now it is much easier to target the audience relevant to the business through digital marketing utilities such as SEO and SEM.
What exactly are SEO and SEM?
SEO, also known as Search Engine Optimization, is an online marketing technique for optimizing websites to generate organic traffic from the search engine results page (SERP). The objective is to get visitors to come to the brand's website when they search for specific keywords on search engines such as Google, Bing etc.
With the help of SEO, your brand's website can be optimized in such a way that when users are typing in keywords, your website link is the first thing they see.
There are three categories for SEO optimization:
1. On-page SEO – these deal with tweaking individual pages of your website with strategic keywords, thereby enabling search engines to give your website page a higher rank. This includes writing quality content that your readers can relate to and using appropriate keywords that people will search for, among others.
2. Off-page SEO – this method deals with providing backlinks from other relevant websites to boost your brand website's reputation. When enough websites link back to your website, search engines deem your site to be reliable and trustworthy and thus increase the rank of the site. Off-page SEO service includes posting relevant pages on social bookmarking sites, writing guest posts on other pages that link back to your main site, etc.
3. Technical SEO – this method deals with security, user-friendliness, and site speed. The better the experience of using the site, the higher the search ranking the brand website gets.
Search Engine Marketing
SEM, on the other hand, stands for Search Engine Marketing. It makes use of paid tactics instead of organic to boost your brand's presence on search engines. This includes strategic placement of ads and budget allocation for such placements. When ads are placed on search engines, a customized ad pops up at the top of the search engine when the user types a keyword. SEM is a great way to promote campaigns, products, and services.
The primary objective of SEM is to ensure your business is at the top of the search page when certain keywords are triggered, irrespective of how your website ranks organically. In short, the more you spend on SEM, the better it will perform to achieve your goals.
Both SEO and SEM in conjunction can help you reach your goals, spread awareness of the brand and drive traffic to your website. When someone clicks on your SEM ad on a search engine listing, they will be directed to your website. If the website is poorly done and not optimized for SEO, it won't achieve the desired results, and traffic to your site can stop. That is why it is equally important to run both SEO and SEM optimization in tandem.
In the short run, SEM is better as it immediately puts your brand in focus, but for the long term, SEO is a better option. The downside is SEM is paid marketing, and it will function as long as you have sufficient funds for your ads. Both SEO and SEM can do wonders for your business, and continuous optimization is the way to go to build a strong brand presence online.
Benefits of Search Engine Marketing
Once you are familiar with the prime tools of digital marketing, such as SEO and SEM, it's time to note down the advantages of search engine marketing, and a few of them are listed below.
Search Engine Marketing enhances your visibility in the digital world, which results in a good audience on your website.
SEM enables you to target a specific geographical location which means you can run your business ads at that particular location.
SEM allows you to target a particular group of audiences which will yield better results at an economical cost.
Business Ads are simple to manage and can be executed at the click of a button.
To sum up, Digital marketing is one of the best tools to transform your business with less investment. However, during the process, you need to pay for several tools, agencies, and service charges from time to time. So, if you want to keep your transactions flawless, then let's have a look at the EnKash payment card- One card for all your needs.
To know more, visit EnKash.com. You can also click below on Signup Now and we will reach out to you soon.