Are you an aspiring entrepreneur looking to scale your startup but confused about the fundraising process? Well, this blog will demystify the startup funding process in India in detail.
What is Startup funding?
It refers to acquiring capital for a relatively small, new, or early business venture. There are various sources through which capital can be raised, such as angel investors, venture capitalists, bank loans, crowdfunding platforms, etc.
Startup funding refers to obtaining capital for a new or early-stage business. This capital can come from various sources, such as angel investors, venture capitalists, crowdfunding platforms, and bank loans. The capital raised can be used for multiple purposes, including day-to-day operations, product development, hiring, marketing, inventory, etc.
However, to raise funds, startups should showcase the potential to scale in the near future, along with a sustainable and stable business model.
What is the need for Startup Funding?
A startup needs funding to expand its business. However, founders must be clear about why they want to raise funds and have a detailed plan before reaching out to potential investors.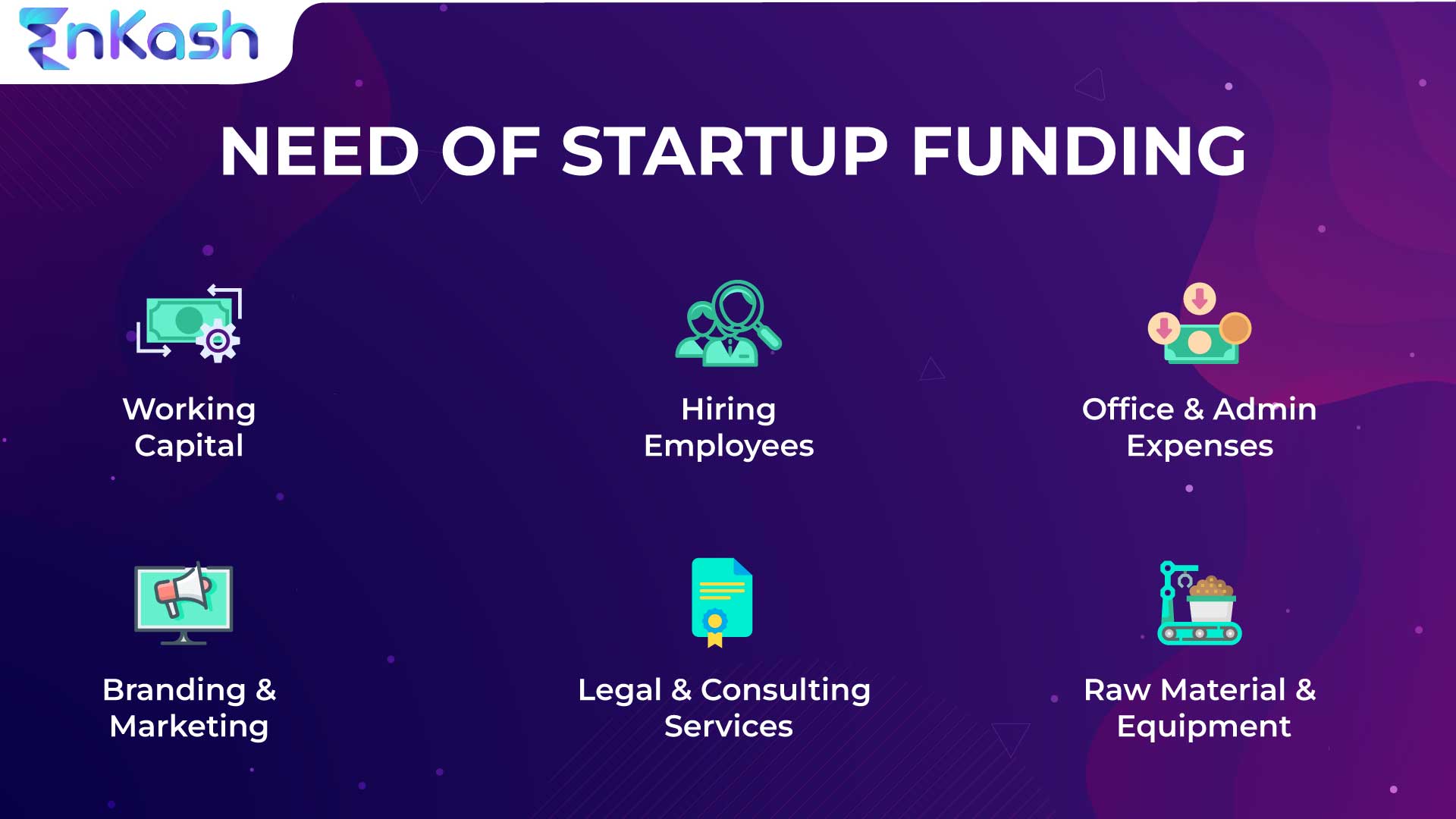 How to Raise Money for your Startup?
Raising funds for your startup is not easy since it requires a proper business plan and networking with potential investors. Not only this, but startups also need to present financial projections and traction and have a clear idea for a profitable venture. A startup must develop a milestone-based plan along with clear timelines regarding what it wishes to do in the next 2, 4, and 10 years.
Note: The funds offered largely depend on the business's financial needs and requirements and vary according to size and type.
Angel Investors
An Angel Investor is an individual or group with a high net worth who invests their money into high-potential startups and young businesses in return for equity. In other words. Their main objective is to support businesses that show high potential but may not have access to traditional financing.
Crowdfunding
is another way to use small amounts of capital from many individuals to finance a new business venture. There are various types of crowdfunding, such as reward-based crowdfunding, donation-based crowdfunding, equity-based crowdfunding, and loan-based crowdfunding.
Government Loan Schemes:
To boost the startup ecosystem in India and easy availability of capital for entrepreneurs at the early stage of growth, such as the Startup India Seed Fund Scheme(SISFS).
Venture Capital:
Venture capital (VC) is a form of private equity funding offered to early-stage startups and companies. It is often offered to firms that show significant growth potential and revenue creation, thus generating potential high returns.
Banks/Non-Banking Financial Companies (NBFCs)


Funds can be raised from banks and NBFCs as the startup can show market traction and revenue to validate its ability

to finance interest payment obligations.

Friends and Relatives
If any other form of lending is not a viable option, funds can also be raised from friends and relatives, which comes with little or no interest.
Frequently Asked Questions
What does an investor look in a startup before investing?
An investor looks for various things in a startup before investing, such as the business's ability to solve a unique customer problem, the passion and skills of the founders, the market size, obtainable market share, product adoption rate, historical and forecasted market growth rates, macroeconomic drivers for the market your plans to target. Not only this, but they also look at the cashflows over the years, investments required, exit avenues, and more.
What are the stages of startup funding?
There are various stages of startup funding, such as Pre-Seed funding/Self-Funding, Seed Funding, Series A Funding, Series B Funding, Series B Funding, Series C Funding, Series D Funding, Series E Funding, etc.