If you're particularly tech-savvy or have been spending some time on the internet lately, you're bound to have come across terms like neo banks or neo banking in India. This is especially true in the case of social media, where you're flooded with ads that entice you to try out the revolutionary way of banking. And why not?
Neo-banking has indeed revolutionized how we do banking business.
If you're wondering what exactly is neo banking, then you're in the right place to get all the information
What is neo-banking in India?
Neo banks are digital payment banking without any physical presence. That means there is no physical branch for you to visit to make transactions. Instead, you can make cashless payments by staying at home or at your office desk.
While that may at first seem like the biggest red flag or the biggest hurdle, neo-banks have another ace up their sleeve; innovation and perks. The neo-banks provide banking services that traditional banks do not, and the use of technology is what makes them an exciting and popular digital India payment system.
How Does Neo Banking In India Work?
The biggest strength of neo-banks is that they cater to people who find difficulty going to traditional banks. That segment of people includes students, teenagers, and freelancers. And while these people are often digital savvy, opening an account in a neo-bank in India makes much more sense to them because they are offered perks that traditional banks do not give.
Moreover, opening an account in a neo-bank is fairly simple without the hassle of submitting too many documents.
Neo banking in India does not own a banking license directly from RBI, but no need to be worried about that. This is because neo-bank in India partners with traditional bank allies to offer their services. As Becoming a 100% digital payment banking is not allowed by the RBI.
What makes neo-banking so popular?
Cost
Opening an account is completely free. Since these banks do not own any physical branches, there is no labor cost involved. There are no annual fees or monthly minimum balance requirements as well, which is not the case in traditional banks.
Convenience
Traditional banks require you to fill and sign multiple forms, wait a few days for account activation and then wait some more to receive your debit card. Neo banking in India reduces all that process. You can create a banking account within 10 mins of signing up.
Personalization
Curated offers specially for you. Cards with personalized style are meant to stand out. These little things matter to the user.
Banking Options
All your credit, loans, banking, and investments in one place. One tap on the mobile screen, and you can see your assets and liabilities in one place. Traditional banks do offer similar services, but they are not as seamless.
Neo-banking Advantages And Disadvantages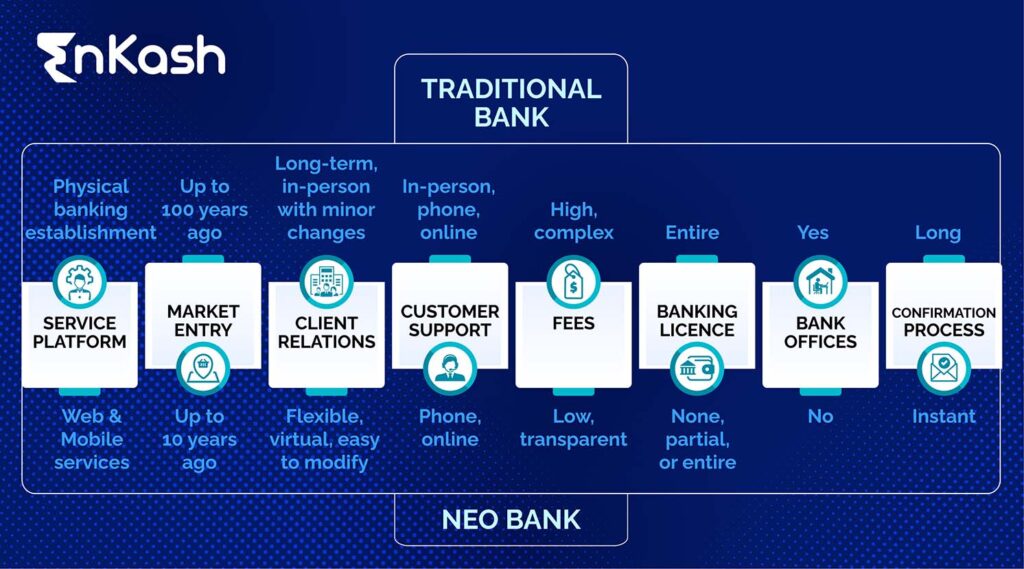 One of the best things about digital payment gateways or the neo bank in India is that it is constantly evolving. These banks use the latest innovations and tech to enable effortless and safe banking transactions while allowing the user to receive perks at the same time.
That's a win-win for both the customer and the bank. All of their banking is done through mobile, and that means you're not limited to a particular city. The convenience is unparalleled. Paperless transactions, virtual international cards, and access to various opportunities and features are just the topping of this global phenomenon.
However, the only cons of neo banking in India are; that the traditional banks will face fewer footfalls at their branches with less cash in their drawers.
Challenges For Emerging Neo-Bank In India
There are numerous benefits of cashless payment via neo-banks in India. However, one of the biggest challenges that they face is customer trust.
Traditional banks have been there for a long time, and it's easier for people to go to them all the time. Neo-banks in India, being new, does not have the same luxury. While neo-banking can be used for small to medium transactions, most people are skeptical of doing large-scale business transactions simply because they are not well known.
For traditional banks, the user always has a place to go to for their worries and queries, but since all neo-banks are online, the only way to reach them is either digitally or via phone.
Other than that, the Reserve Bank of India does not recognize neo-banks in India as full-fledged banking institutions. As such, these digital payment institutions or the neo-banks in India have to engage with other regulated financial banks and institutions to carry out their services.
Despite these limitations, neo banking in India is growing at an exponential rate and is fast becoming the go-to option because of the plethora of services and benefits they offer. With India going digital at a break-neck pace, the scope for neo-banking is far and wide.
Is Neo Banking In India The Demand Of A Future Payment System?
Most experts believe that neo-banking is going to be the banking of the future. As more consumers opt for virtual credit cards and digital payment options, the only thing standing in their way is time.
The concept of neo-banks eliminates the trouble of operational costs and, therefore, can spend more on providing customized services with the like of which traditional banks often falter.
For a small-to-medium enterprise [SME], neo-banks can be an exciting prospect that aligns with the way they do business.
Followed by the demand of businesses, EnKash is one of the emerging Neo-bank in India that offers India's best virtual credit cards to manage all your expanse with ease. Let's look at the glimpse below.
To know more, visit, EnKash. You can also click below on Signup Now, and we will reach out to you soon.