You might be thinking about whether a corporate credit card is the right tool for you. Whether you're in charge of a company's finances or an individual, how you answer this question will differ.
As a company corporate cards provide a number of benefits for companies looking to give their employees purchasing power while also managing expense reporting. Among the benefits are the following:
5 Key Benefits Of Using Corporate Cards
Employees have access to a credit line
Perks and reward packages for employees, as well as cost-cutting measures
Expense reporting and analytics made easier
Employee spending power is under your control.
Concur and other expenditure management systems can be integrated.
At first look, this list of advantages may tend to make offering your employees a corporate credit card a simple decision. If you want to enhance your employees' purchasing power through a corporate card program, you must be familiar with the program's features and its execution.
Before giving staff corporate cards, make sure your business expenses policy is in place and that employees understand when they should use the card and what types of expenses should be charged to the card. All direct and indirect expenses related to the business are charged including corporate gift cards.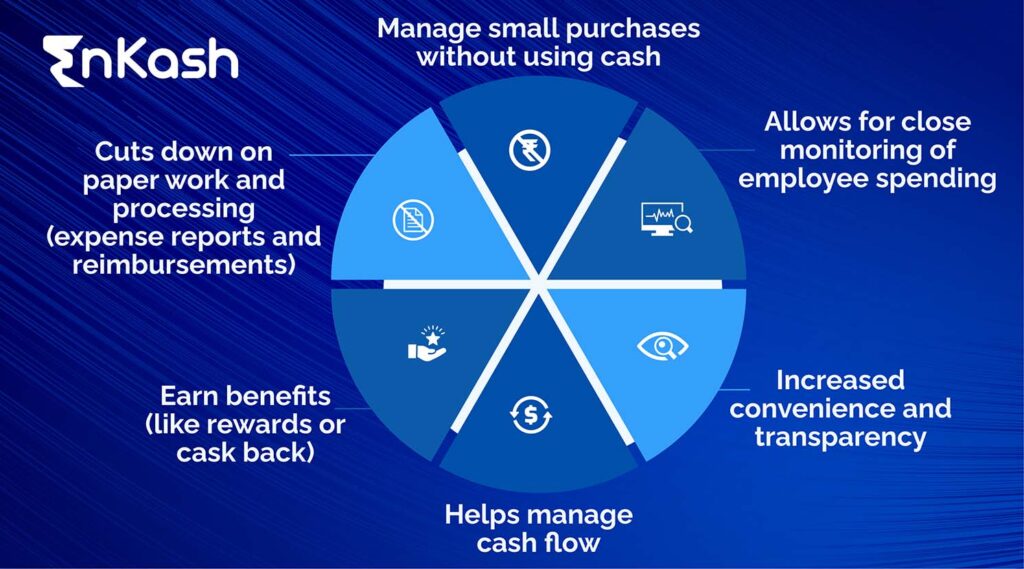 Corporate Cards- A Masterpiece Utility For An Employee
As an employee, corporate credit cards can give you more spending power and card advantages, help you keep your personal and company costs separate, and make expense reporting and reimbursement easier. Some of the corporate card benefits when given to employees include:
Expense simplification
Distinguishing between personal and business expenses
Access to premium credit card benefits at a low (or free) cost to you
Employee Reward Program
There are almost certainly as many corporate policies surrounding the use of corporate cards as there are corporations. We've seen policies ranging from a strict requirement that all business spending be paid to corporate cards to a recommendation that company expenditure is charged to a corporate card as a convenience. Check with your company to ensure that you understand your company's policy.
For more information related to corporate cards, spend management utilities, and other financial tools relevant to business, you can watch videos from the link.
Corporate Cards: Benefits for Companies 
Now that you are familiar with corporate cards and their benefits for the employees. Let us know what are the benefits of a corporate card for the companies.
Cash Rebates
The most visible of the corporate card benefits is the annual cash rebate on purchases. Cashback rebates differ for each provider and their partners and can vary from 1% to 5%, depending on the card issuer and the type of purchase made (items such as office supplies, airline tickets, and gasoline typically see higher rebates).
Improved Spending Management
The spend management utility is the most acceptable means to track the company's expenses, and corporate cards do the same effectively. By simply entering card statements into an expenditure report and accurately identifying all transactions, spend analysis reports become substantially easier.
The ability of a finance team to evaluate data accurately and efficiently is significantly improved by centrally storing this spend information in the same manner for all employees within a business. Visual dashboards can easily analyze transaction data pulled from the system to provide actionable intelligence for financial decision-making.
This information can be used in a variety of ways, including analyzing expenditures against budgets, negotiating volume discounts with vendors, and finding inefficient spending areas in order to make organizational changes.
Expense Processing That Is More Straightforward
The expense management procedure is greatly simplified and efficient when corporate cards and expense management solutions are integrated. Directly importing credit card statements into the expenditure report enables the collection of precise transaction detail. On their expense reports, cardholders include pertinent information (billing code, client data, etc.). The expense management system can then export this data directly to the ERP, enabling more accurate and timely billing of clients.
Let's have a look at India's finest Fintech tool to manage all your spending in one place.
Eliminate Expenditure Fraud
There is always the risk of expense fraud when employees pay for products themselves and submit expenses with photos of receipts. Adding larger tips to restaurant receipt copies, purchasing items, submitting receipts for reimbursement and then returning them, purchasing business class seats, and then downgrading them to the economy once the expense has been processed are all examples of how legitimate purchases can turn into fraudulent expenses.
In two ways, giving employees corporate cards eliminates all of these possibilities. First, credit card bills are instantly imported, and the precise amount charged is always included, making it difficult for employees to falsify receipts. Second, reimbursements can't be handled onto a different card than the one used for the purchase; workers can't take advantage of any of these strategies.
Organizations should also include a language in their card policy stating that any unlawful purchases are the employee's responsibility.
Collective Happiness
Another one of the most significant corporate card benefits that should be considered is employee satisfaction. Expenses for employees who travel regularly or need to book conferences can add up to thousands of dollars per month. It will be unnecessary for them to pay for products out of pocket if you provide them with a corporate credit card. This is especially critical for firms that only process 1-2 expenditure payment reimbursements per month since any delay in filing could result in travelers having to pay their credit card bills before being paid for their expenses.
Bottom Line
The message that corporate cards communicate to employees that the company trusts and cares about them is a less obvious but often equally important benefit of delivering corporate cards to employees. In an era where employee satisfaction is such a major topic for many businesses, this is a powerful incentive to explore implementing employee card systems.
To know more, visit: EnKash. You can also click below on Signup Now and we will reach out to you soon.