You would have often heard the term 'digital economy' is used a lot and often wondered what it means and how it affects your business. In our business ecosystem, there are many businesses that tend to focus only on internal factors and limit their focus on external factors to those that directly affect them. However, learning what the digital economy in India and the rate at which it is growing will have a direct impact on your business as well.
Let's start by defining what the digital economy is. Digital economy refers to the way we create and adapt different aspects of our lives (both personal and business-related) using information technology. Digital banking is an excellent example of the digital economy as it affects individuals as well as businesses.
As a growing business, you must harness the power and impact of the digital economy and benefit in all aspects.
Impact of the digital economy on businesses
Let's take a deeper dive into how you can leverage the digital economy into your business. We will look at the obvious factors as well as some hidden digital economy examples.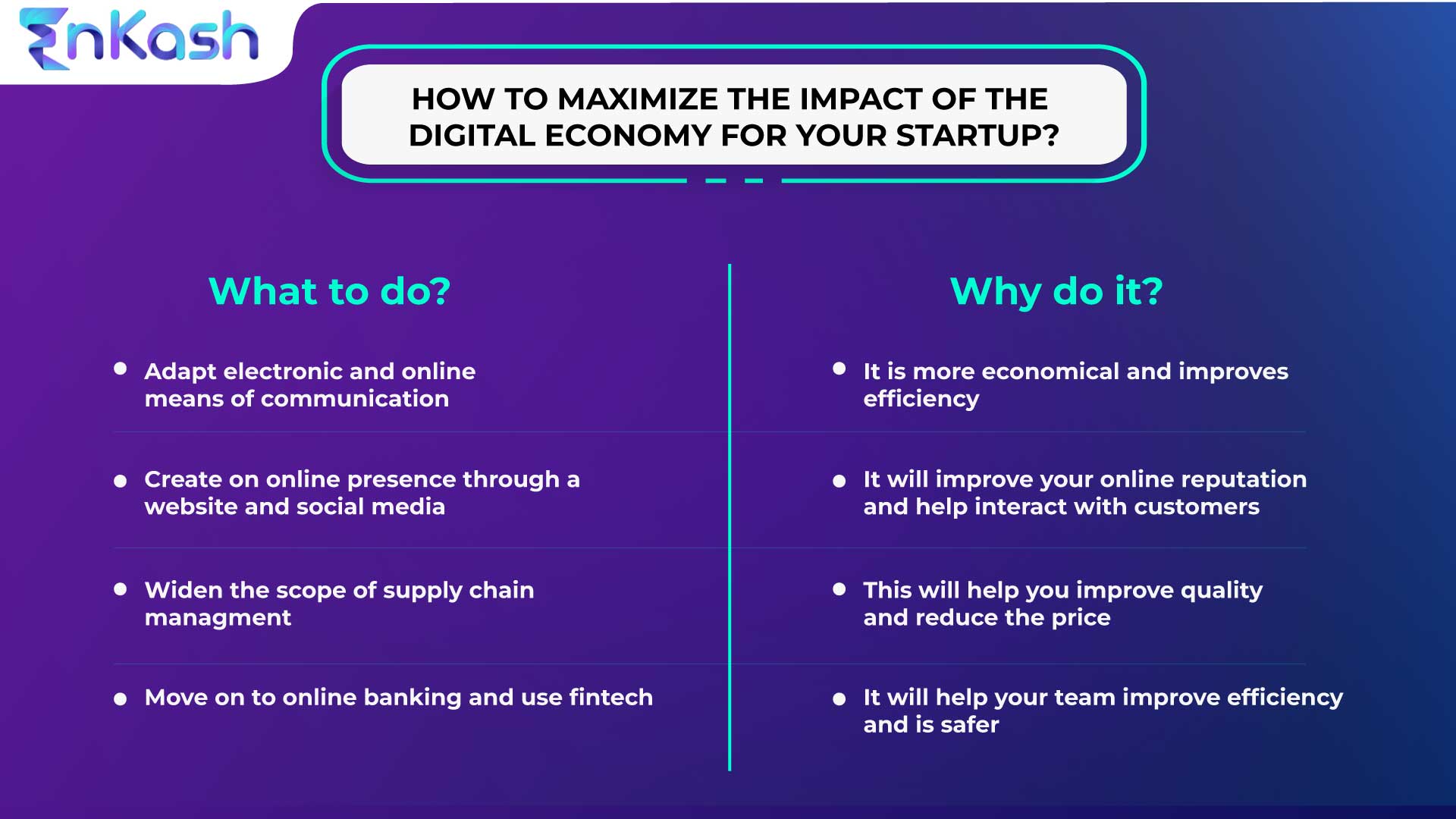 Communication
One of the most obvious impacts of the digital economy is on the way we communicate personally and professionally. For startup businesses like yours, the need to wait for information and updates is no longer an issue. You can literally carry the means to communicate in the palm of your hand. The speed with which the digital economy has impacted this aspect of business can be seen in the way free tools to communicate have flooded the market.
Supply chain management
Earlier, managing your supply chain was difficult and restricted to those suppliers and vendors you or your people knew about. But today, you have access to suppliers and vendors from across the country if not the world. You have the option to specify universally applicable quality standards and get them with the relevant certification. 
Networking and sales
Another area where you see the impact of digital India on the Indian economy is of networking and sales. Today, you can simply log in to a business-related social media site like LinkedIn and network with people that are important to your business. In the same way, sales efforts have become more focused on the use of CRM and other means.
Globalization
Where a few years ago, one could not even dream of reaching out to global sources for any information or supplies, today you can simply do that. For example, you can source merchandise for a local event from a vendor across the globe. The growth of the digital economy not only enables you to communicate with the vendor but also make payments within seconds.
Immediacy
One of the biggest digital economy examples is the way immediacy has become the norm rather than the exception for all aspects of a business. Whether it is the verification of the credentials of a stakeholder or the submitting of papers for a  loan, the digital economy enables immediacy. And that too without compromising on security or accuracy.
Price and efficiency
Since the whole world is one big marketplace and there are hardly any boundaries when it comes to critical information, this has had a positive impact on pricing and efficiency. You will find that where it used to take months to get something from another country and cost a fortune, it is now a matter of weeks at the most with competitive pricing.
Reputation-building
For a smaller business or a startup like yours, it is vital to have a recognizable presence and reputation in the market to ensure credibility. The digital economy helps you build a reputation as well by creating a digital persona that can leave insights for the relevant audience to pick up and glean insights from.
Digital Banking and finance
In earlier times, access to finance or funding from banks or even carrying out banking transactions was very much limited. Funds or finance sources were restricted to bigger companies and banking required a lot of paperwork and personal visits to the bank. Today, you have fintech leaders like EnKash, Asia's 1st and smartest spend management platform, not only offering a collateral-free credit limit but also enabling many financial transactions through their portal.
Here's how you can leverage the digital economy to enhance the growth of your startup:
Adopt the best and latest technology to amp up your internal and external communication
Access free marketing and sales tools to offer a seamless and personalized customer experience to your customers
Adopt free fintech tools like the spend management platform that EnKash offers to improve financial management
Adapt your procurement practices to get the best rates and quality for your supplies by widening your supply chain
Ascertain the security and privacy of the way your information is being used internally and externally
These are a few simple steps to start on your digital journey and you will be able to do more with time as your business thrives due to these steps.