As a thriving business in today's economy in India, you would have come across the term gig economy. According to Velocity Global, the global gig economy statistics show that the numbers are poised to rise from 43 million in 2018 to 78 million by 2023. 
Often people may not be aware of the meaning of the gig economy in India and think that it is a concept that is not prevalent in our country. But that is far from the truth and there is a rise of the gig economy concept in India as well.  And if you are the founder of a small or medium-sized business or a startup, then you must learn about the gig economy's pros and cons. Let us dive deeper into the concept of a gig economy to understand what its impact is on smaller businesses.
What is gig economy?
A gig, by definition, is a small-term or short-term job that you pick up and work on. For instance, a specialty engineer who specializes in bridge structures may pick up gigs in the short term as and when a project requires his or her specialized expertise. An economy where more people are inclined to gigs or short-term freelancing jobs or contracts may be defined as a gig economy. In such economies, there are less long-term jobs and more gigs as the choice for employment.
What are the pros and cons of gig economy?
Gig economies are slowly starting to take over conventional employment, given that the younger generation is more inclined to this concept. Shorter attention spans, increased choices, and wanting to specialize are some of the reasons that encourage the growth of the gig economy. As with any other concept, gig economies have their own pros and cons. Let us take a look at some of them here.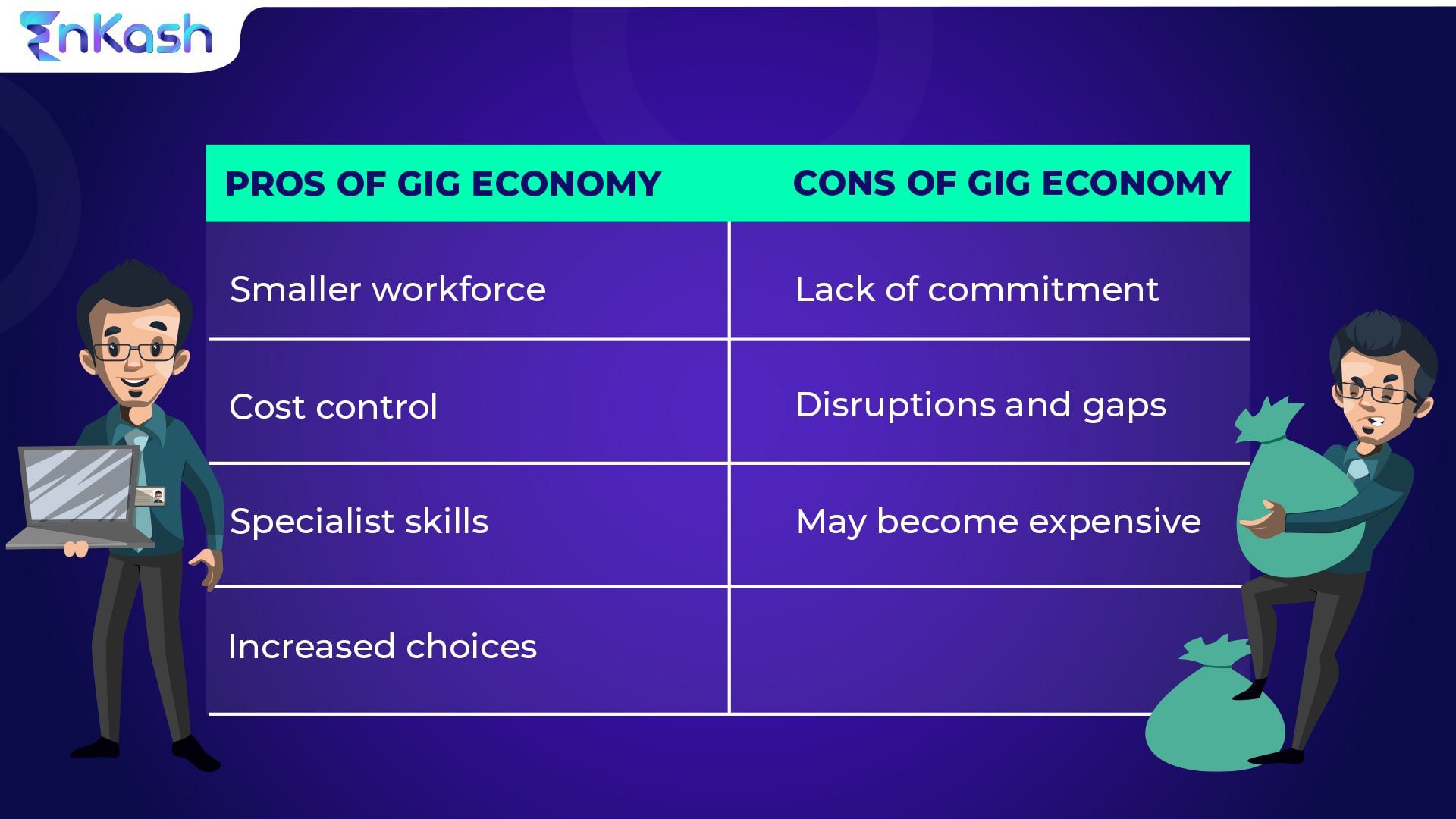 Pros of gig economy
Smaller workforce
For companies that do not want to onboard too many full-time employees, gig workers are a good choice. They not only work with complete commitment during the contract period but need not be part of the long-term payroll. 
Cost control
Gig workers, by definition will work for a shorter period and then move on, which means that the business has to commit to paying them for a lesser time period. Once the work is complete, there is no need to keep paying the employee in question.
Specialist skills
Many companies need a specialist with specific skills for a short time period and gig economies support that. Since gig workers are not committed to one employer, they can support your requirements without any waiting period.
Increased choices
Instead of only full-time employees or contractual employees, the gig economy allows companies to choose from increased options. Companies can appoint full-time employees for sensitive matters and take on gig workers in the short-term for project needs.
Cons of gig economy
Lack of commitment 
The lack of commitment from the gig workers can often result in poor quality of work, especially towards the end of the contract. In some instances, the lack of commitment from the company can also result in issues for gig workers.
Disruptions and gaps
With an increasing number of short-term workforce working in a company, there can be disruptions in production and gaps in quality. This is especially in the case of manufacturing companies, where quality needs to meet certain standards.
May become expensive
Since gig economies operate on the concept of demand and supply, in some instances, gig workers may charge more. Given that gig workers are only short-term, they may feel the need to charge more, making it expensive for the company in question.
How is gig economy relevant to small businesses in India?
Small and medium enterprises or startups by definition have limited resources and often have to balance their limited resources against increasing demands. In such situations, the pressure to do more with less is always upon these small businesses. This, in turn, means there is a lot of pressure on employees to perform more roles. 
The result is often poor quality goods, subpar customer experience, or even sometimes dangerous situations. But this does not mean that the smaller business should recruit more people to make up the difference. Doing so will tax their limited resources and reduce profit margins,
In such a situation, the concept of a gig economy with short-term specialist workers to support them is the right way to go. The smaller business gets the skillsets they require, but without adding the burden of increased payroll in the long run. Also, in some instances, when the employee they recruit may not be the right fit, and in such cases, there is a long process for separation. This concern is mitigated in a gig economy due to the nature of contracts. 
Smaller companies also get to experiment with the right mix of skills in the gig economy before committing in the long term. As you can see, the benefits of the gig economy are numerous and will help small businesses grow with access to the right resources without a long-term commitment.
At EnKash, we have a number of fintech spend management solutions to meet the evolving needs of a business like yours. Click here to check out what EnKash, Asia's 1st & smartest spend management platform has to offer you.