E-Banking or Electronic Banking in simple words refers to various banking transactions over the internet, which is end-to-end encrypted making it convenient, safe, and secure to use. The primary purpose of e-banking services is to promote paperless and cashless transactions in the digital world. This blog highlights the key benefits and differences between e-banking and traditional banking.
E-Banking Features
Below are the key benefits offered by e-banking in India:
It promotes transparency since services are offered online
The user has access to the bank services 24/7
The user is sent notifications and alerts with updates relating to banking transactions and changes in the rules
It lowers transaction costs for the banks
It is convenient and easy for customers since a bank branch is not required
It also saves time, manpower, and resources for the banks
Advantages of E-Banking
E-Banking has different benefits for customers, banks, and businesses:
For Banks:
It enables lower transaction cost
It increases efficiency and reduces manual errors
Digital records reduces paperwork
Experience higher loyalty from its customers
For Customers:
It is convenient for the customers as they can access their account anytime, anywhere
Lower cost per transaction as the customer is not required to visit the branch for every transaction
There are no geographical barriers for the customers to use e-banking services
For Businesses:
E-Banking improves productivity with the help of automation
All the business transactions are recorded on a banking portal for future references
It helps to reduce errors in regular banking transactions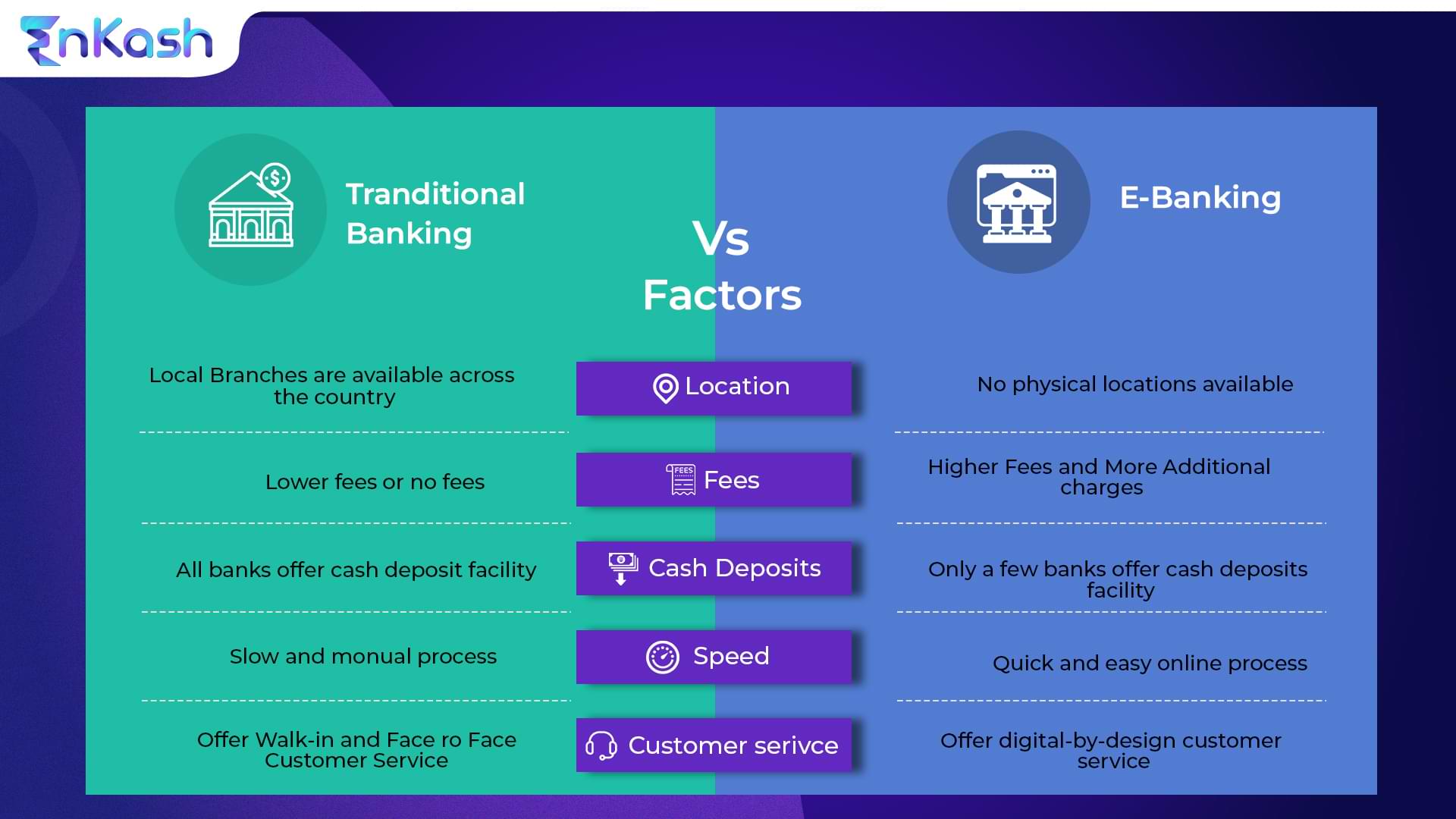 E-Banking Services
There are two types of e-banking services i.e., financial services and non-financial services:
Financial services
Take a quick look at the financial services offered by e-banking:
Enables the transfer of money to other private and national bank account holders instantly
Helps to purchase goods and services and use business-to-customer payment methods such as credit cards, debit cards, net banking, mobile banking, various payment gateways, wallets, etc.
Provides facility for making business-to-business transactions using electronic modes such as NEFT, RTGS, and IMPS options, etc. depending upon the business size and the transaction amount
Non-Financial Services
Below listed are non-financial services offered by e-banking in India;
Allows user to view the balance sheet for both the savings and current accounts
The customer can keep a track of the history of transactions done with huge historical archive limits
Submitting chequebook requests
Downloading Bank Statements as and when required
View loan status or EMI Summary, if any
Details relating to Mutual Funds, Demat Accounts, and insurance policy can also be monitored online
To know more, visit EnKash.com. You can also click below on Signup Now and we will reach out to you soon.