Often what emerges as a small start-up ends up taking the whole world by storm, and this is the case with digital payment. However, most businesses are not actually an overnight success as they seem. It takes years of meticulous planning, dedicated execution, and sheer hard work that goes behind the scenes. But the successful SMBs is the one who goes with time and follows the latest trend, i.e., Digital Payment as the best B2B payment solution.
This article is for SMBs who want to enhance their business by managing cash flow through Digital Payment.
Small and Medium-sized Businesses (SMBs) have been getting much more recognition in the past few years. The government, too, is providing a huge platform for them that can act as a launchpad if used rightly so. The cashless economy in India is the demand of time that enables businesses to run smoothly. Also, digital payments in India help vendors and suppliers handle the cash flow efficiently.
Statistics Of India's Digital Payments
SMBs in India currently contribute to over 29% of the country's GDP. There are over 70 million SMBs spread across India. While SMBs might have limited resources to expend, being technologically enabled gives them a huge boost. Incorporating digitalization in the business' infrastructure at an early stage can help catapult the company to the top of the charts in a short span of time.
India Digital Payments Impact on SMBs
Digital payments are at the forefront of the change that the business economy is seeing nowadays. Digital payments in India have a very positive impact on business sales and revenue.
In the latest finding of digital payments in India, it was stated that 57% of SMBs believe that customers spend more when they use cards versus cash. Meanwhile, 45% of SMBs boosted their sales after they started to accept digital payments. These findings are rooted in the fact that digital payments are approximately 7x faster than traditional non-digital payment methods.
The findings in the 'Indian MSME Impact Report' clearly state that 75% of MSMEs in India agreed that digital payment in India is a necessity to solve daily challenges. The report also suggests that
35% of MSMEs shifted to digital payments due to ease of transaction
9% used online platforms for the availability of data synchronization and privacy features
11% opted for it due to customer preference
The below figure shows various FinTech offerings which deliver different benefits to SMBs.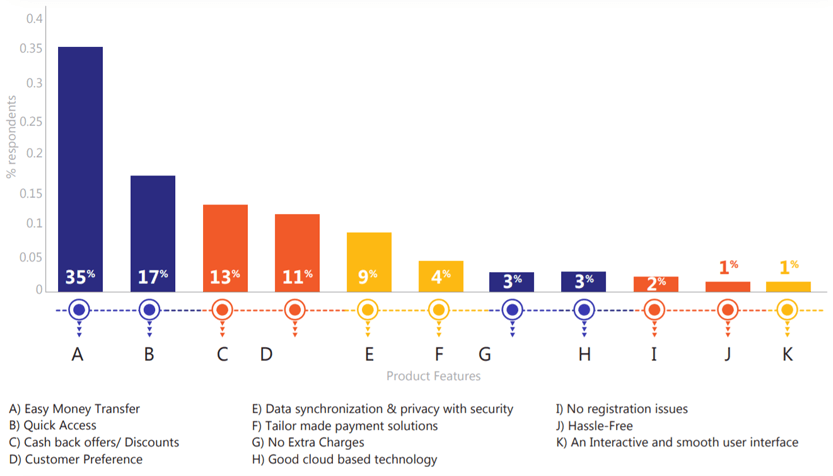 FinTech has completely changed the face of the digital payments ecosphere by introducing a B2B payment solution that caters mainly to SMBs. With multiple SaaS offerings and solutions, the benefits that SMBs can enjoy are unmatched.
Let's take a brief look at the nature and advantages that a digital payments platform can offer SMBs.
8 Benefits Of Adding EnKash India Digital Payments To Your Business
Increase in Process Efficiency
One of the biggest advantages of digital payments is that of time. Time is money, and hence, time saved is money earned. Digital payments work on a fundamental level of the business accounts and restructures the entire process to make it the most optimal. Many redundancies and errors are discarded, leaving the business with a robust framework of digital payments that is essentially flawless.
Empowers Women Entrepreneurs
Being a women entrepreneur comes with its own set of challenges. To make matters easier, digitization lends a helping hand. Women are often tied up with multiple responsibilities at home, family and work, which might make it harder for them to step out for bank and accounting work.
In such scenarios, a digital payment platform works wonders for women. It enables them to run a successful business from the comfort of their homes and also empowers them to happily give attention to family. Moreover, they can also go for smooth, reliable, and secure vendor payments through the digital platform.
Cost-Effective
While a payment platform might feel like a huge investment in the early stage of the business life-cycle, it comes with its own set of rewards that can be reaped over the years to come. It truly is a gift that keeps on giving! Traditional non-digital mode of payments has sneaky hidden costs that mount up substantially at the end of every fiscal year. A digital payment method gives better returns in the longer run.
Easier GST and Tax Filings
SMBs that employ digital B2B payment portals enjoy benefits such as automated GST filings based on pre-set norms and government tax brackets. The hassle of advance tax and income tax filings can also be minimized with the use of a digital portal that comes in handy on making tax payments that are done on an accrual basis.
Customized Payment Cycles
Each consumer has a different payment behavior. Non-digital payment methods have less scope for customizing payment plans for different sets of customers. Also, record-keeping and maintaining paper trail of all transactions is a tedious job. A digital payment platform also helps in maintaining a robust database that can be accessed easily at any time.
Assured Compliance
It's always better to be safe than sorry. A digital platform is a handy tool when it comes to keeping a stern eye on the fast-changing laws and acts of the Indian legislature. Its automatic updating facility allows the business to stay current with the changing times.
Fraud Detection and Mitigation
It is super easy to catch the suspicious movement of money online through bank accounts via a digital portal, which might not be the case in pen and paper accounts. The digital payments system has an inbuilt irregular activity tracker which alerts the owner in case funds are being transferred without his or her knowledge.
Eco-Friendly
A business that wants to stick around for long needs to be a sustainable, eco-friendly business. A digital payments platform has a very minimal scope of paper receipts and bookkeeping. A green business is a successful business!
This exhaustive list of advantages has made it crystal clear that there is more to digital payments than what meets the eye. If incorporated and executed correctly, it can help save a huge amount of time and money. Eliminating manual tasks can help place employees in better-suited positions where they can be redirected to revenue-driven tasks and, in turn help boost the cash flow of the business.
EnKash has taken the digitization of payments to a whole another level with its commercial cards that can be used exclusively for corporate payments and expenses. This card mainly helps SMBs by offering interest-free credits to make all kinds of commercial expenses with just a swipe.
It also has a seamless all-in-one transactions platform that has already earned itself a huge client base. One of the leading FinTech start-ups of India, EnKash has simplified payments and satisfied its customers by putting their businesses on the map for the world to see!