If you are a startup, small or medium-sized business, then your main concern is ensuring that you continue to serve your customers seamlessly. As simple as it sounds, serving customers seamlessly takes a lot of effort and can require you to plan well and ensure that all aspects of your business are running smoothly.
In this article, we will deep-dive into vendor payments and how they can affect customer experience. The question that may come into your mind is how vendor payments affect customer experience. Vendor payments definitely affect your cash flow and the rates you are able to get from vendors, but customer experience? Though this seems farfetched, vendor payments have a profound impact on customer experience.
Customer experience and vendor payment; what is the connection?
Let's identify the factors that connect these two seemingly disparate aspects by defining what they mean and then connecting the dots.
Vendor payments are related to the purchases you make to run your business, in the form of supplies or services. It can include anything from the raw materials for the production of your product to stationery to keep your office running or even the cleaning services for your premises.
The process for onboarding vendors is handled by the procurement team which gets a request to start the process from one of the departments. They then get the quotations, evaluate vendors, negotiate terms for payment, and credit period, and then issue a purchase order (PO) that has these details.
The vendor after delivering the goods or services raises an invoice requesting payment as per the credit terms.  Once it is confirmed that the goods or services have been delivered as agreed upon, the finance team releases the payment. The process repeats and continues as required.
Customer experience is a continuous process that ensures that the customer has a positive journey throughout the purchase process. This starts right from the first touchpoint, which can be via social media or the website, and continues through the entire process of learning about the product, understanding the pricing, making the purchase, remitting payment, getting delivery, and keeps going on with the after-sales services. Ensuring that the customer experience is seamless at all levels not only maximizes customer lifetime value but also ensures business continuity.
How vendor payments affect the customer experience
Supply continuity
Often, the relationship that your customers have with you is not a once-and-done kind of deal and can involve the continuous purchase of goods or services. When you do not streamline vendor payments, you often find that there is a problem in the continuous delivery of goods and services on time to the customer. And when you have a long-term relationship with the customer, it is important to be able to ensure continuity in the delivery of goods and services as per your contract with the customer.
Quality of goods
Vendors or suppliers and the quality of supplies or services they provide to you have a direct impact on the quality of goods that you deliver to your customers. When you do not pay your vendors on time, then it is likely that you stop being a priority customer to your vendors. This, in turn, will affect the quality of supplies adversely. Without quality supplies, the goods or services you supply to your customers are also going to be adversely affected.
Product pricing
Vendors give priority to buyers who pay them good rates and pay them on time. Any delays in vendor payments have a cascading effect on the pricing that the vendor offers you. Delayed payment to vendors affects their cash flows, which in turn means an increase in opportunity costs, and this results in an increase in the pricing of supplies to you. This, in turn, will increase the pricing of the products or services deliver to your customers. A frequent rise in prices without incremental value is bound to have a negative impact on the customer experience.
After-sales service
The ability to continue providing services or spare parts or for that any aspect of after-sales service depends on having the right resources to do so. And the right resources, especially in terms of supplies, spare parts, etc. will depend on continued supply from your vendors, which can be affected when you do not pay vendors on time.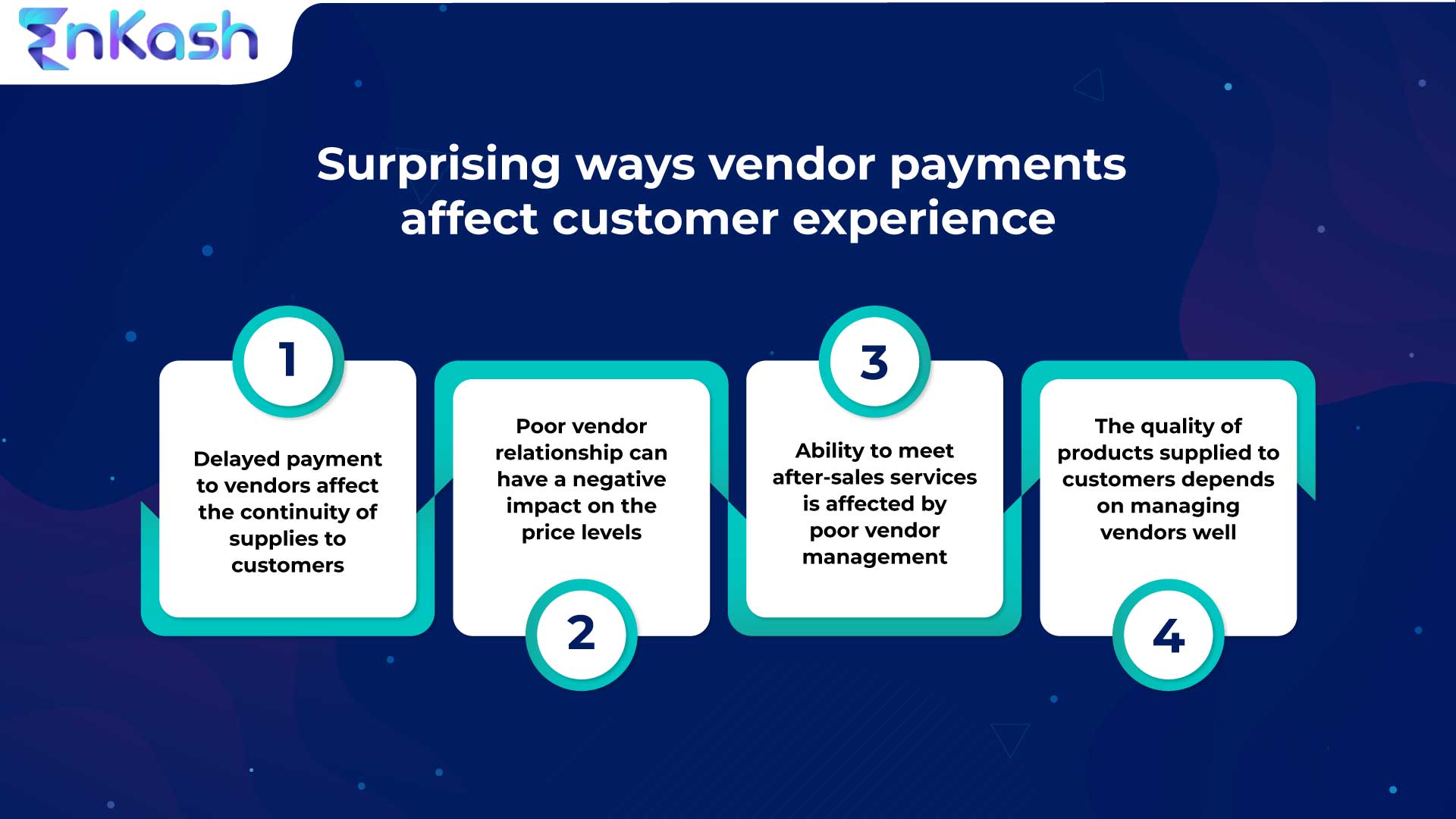 As a smaller business wanting to make its mark in this competitive market, the key factor to keep in mind is providing a seamless customer experience. And in today's world, the customer experience is not limited to the actual purchase process but includes all the touch points where the customer touches base with your business.