An effective business model, whether business-to-customer, online, retail, wholesale, or business-to-business, requires a solid solution to collect payments. In most cases, the payment happens before the goods are handed over. However, businesses that sell to other businesses often offer a credit period to their customers.
In any situation with a delayed payment plan, there is an inherent risk that the payment may get delayed, part payment being made, or even complete non-payment. That is why companies strive for an effective strategy to collect payment, including e-collect accounts. And the process to ensure that you collect payments on time starts not with the collection process but at the time of sale itself. 
At EnKash, we offer our customers a blend of technology and finance, enabling them to earn more, save well, and spend smartly. Our smart spend management platform offers various modules that will help you collect payment online, among other options.
Let's now take a look at some tips to collect online payments effectively.
Why collect payments online?
There are numerous reasons why it makes sense to collect payments online. These include the following:
It is a quicker method that allows the business to access the amounts immediately without any delay

When you have e-collect accounts or collect payments online, it becomes easier to do the cash and bank reconciliation

With a strategy to collect payments online, you will also ensure that your customers find it easier to pay the amounts with lesser hassle

There are numerous options to collect payment online which offers a huge array of choices and flexibility to your customers

Online payment collections ensure that it is easy to start the arbitration process in case of poor collections
Tip 1 – Educate your sales team
One of your customers' most crucial and primary touchpoints is with your sales team. The sales team negotiates the rate, quantity, quality of goods or services, and payment terms. It is important for the finance team to educate on how to evaluate customers and the kind of payment terms that they can offer. Most companies have a credit sales policy structured around enabling sales while minimizing the risks of delayed collections.
Tip 2 – Have a clear customer onboarding plan
Once the sales negotiation process is over, the customer is onboarded to establish the credit terms. At this point, ensure that you have a plan to speed up this process without missing out on any of the required details. The objective is to ensure an excellent customer experience that will maximize customer lifetime value (CLV). 
Tip 3 – Establish clear communication channels
The key to collect payments on time is to ensure that you have the right contact person and the means to get in touch with them. Sometimes, delay in payments could be as simple as employee turnover. Ensure you have alternate numbers and email addresses to mitigate concerns.
Tip 4 – Deliver quality goods or services on time
While the delivery of goods or services is not the responsibility of the collections team, it is critical that you coordinate with the relevant teams to ensure that this happens. In case of any delays, urge the sales team to keep the customer updated. 
Tip 5 – Send invoices on time 
The finance team must ensure that invoices are sent ahead of time to remind customers about payments. The invoice should have all the details like the specifications, date of purchase, and the qualities. Include details like goods receipt or delivery challan numbers so that the customer can easily track the details. One of the best practices is to include these details and a payment link to spur the customer to pay on time and offer various payment options. Choose the right payment link generator for your business to embed the link in the invoices.
Tip 6 – Implement an effective reminder mechanism
Once you have sent the invoice a week or so before the payment due date, send a reminder message by email or SMS to ensure the customer can pay. Ensure that the payment reminders are frequent enough to spur customers to pay but not so frequent as to irritate them. You can also have an in-built mechanism to track payments received so that you end up reminding customers who have already paid.
Tip 7 – Offer various payment mode options
Customers often cite the lack of payment options or details as to why they have not paid on time. The right invoicing best practice is to enable detail-rich invoices that offer all the information required for quick payment and payment mode options. Offering choices like quick collect or bulk collect is a good way to do this.
Tip 8 – Make effective calls with details to collect faster 
Always put together a list of customers whose accounts are overdue and collect all the other order details before making calls to customers. This will ensure that you collect payment effectively and answer any queries that customers may have regarding the order, account, and other details.
Accounts receivable is an important part of financial operations as it directly affects the cash flow and customer experience on the whole. There needs to be a balance between faster collections without adversely affecting the sales of the company.
Visit EnKash to learn how we help companies like yours collect faster and more effectively. As Asia's first and smartest spend management platform, we offer not only a portal where you can manage payables, receivables, bank reconciliation, and access analytics, you can also avail a credit limit to help manage working capital needs.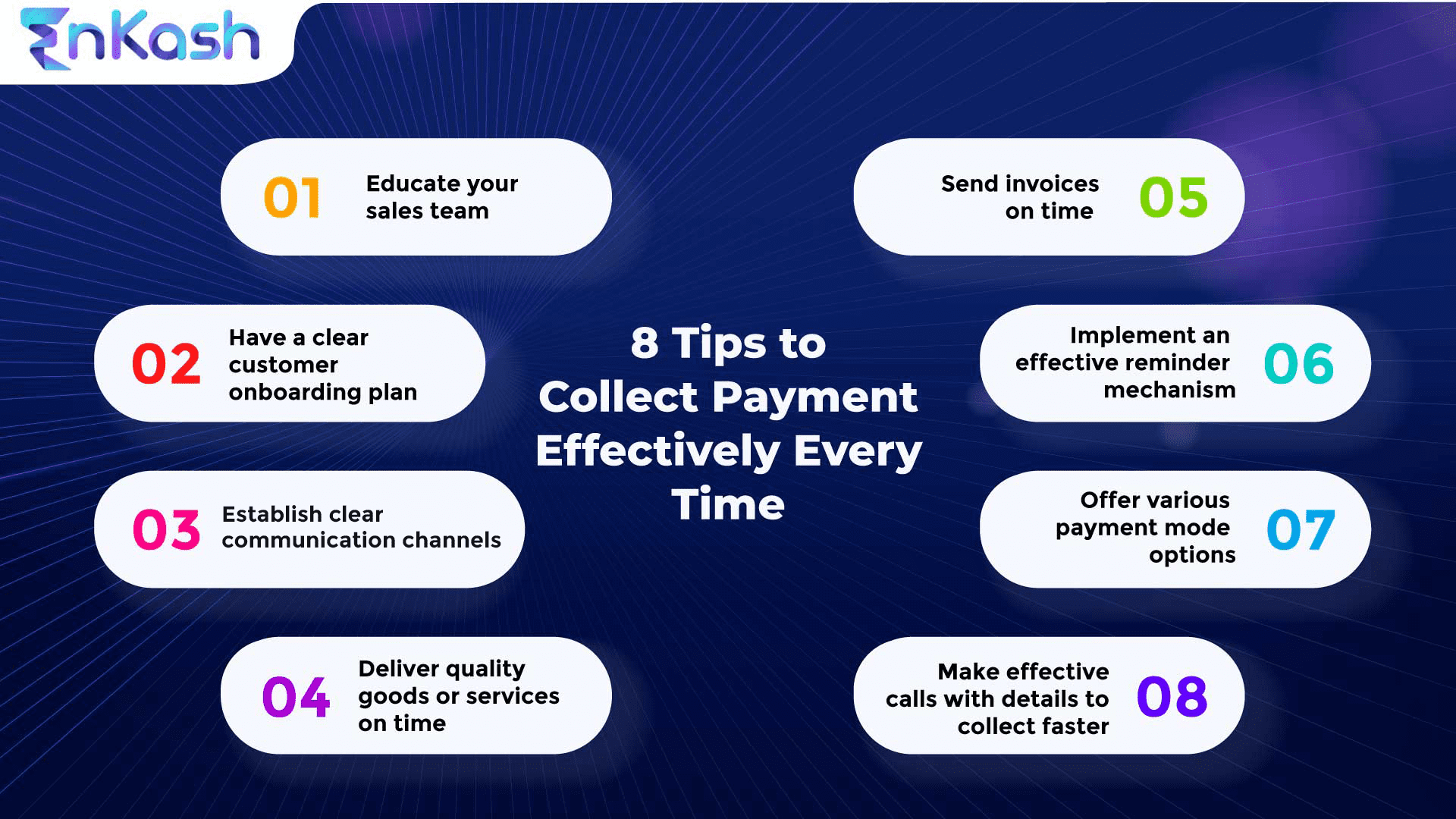 Do you want more clarification on how to collect payment effectively? Browse through these FAQs.
What do e-collect accounts mean?
When payments or receipts are enabled through online banking facilities like NEFT or RTGS, your account becomes an e-collect account. Nowadays, it is a simple process to activate this facility to ensure that you are able to receive and make payments with a few simple steps.
How does customer satisfaction improve when you offer choices to collect payments online?
Customers are usually faced with numerous payment requests, and this increases the load and paperwork at their end. Not only do they need to check the payment request, but also need to get approvals in place before writing out a check. But when you collect payments online, the process of payment is a matter of a few simple clicks. This, in turn, makes it easy for your customers to handle payables and, therefore, increases customer satisfaction.
What is the impact of payments collection on your overall cash flow and sales?
Payment collection has a direct impact on your funds and ability to make payments, in turn, on time. What is more, when your collections mechanism is effective, then your sales team can generate repeat sales on credit terms to the parties that have made payments on time.
How can I use technology to improve payment collections?
Starting from keeping sales records, to generating invoices, sending invoices, embedding payment links to enable payments, creating e-collect accounts, reconciliation, and taking the next steps in case of non-payment is completely supported by technology. You will also see a marked improvement in the speed and security of operations with the use of technology.
What other ways can I use technology to improve financial operations?
You can use technology to improve various areas of finance, including accounts payables, managing card payments, ensuring compliance with local laws, and auditory preparation. Not only that, you can improve the productivity of your finance team with the use of technology.