Social media is no longer something that people use for social interaction, but an important part of your business arsenal. And the best part is that you can use it for free especially if you take a smart approach to how you share content online. As a smaller business or a startup, often the struggle is to always do more and reach more customers with the minimum effort possible.
Social media marketing when done right can make all the difference to your business, your brand, and the way customers see you. Your social media strategy should consider the channels that you use and the kind of content your customers prefer. For instance, if you are selling to other businesses, then the channel that resonates most with them could be LinkedIn.
And if your business is better off visually represented, then Pinterest is the way to go. Complex technical jargon or product information is easier to consume in video format and YouTube can be a good option to work with. Facebook and Instagram are good channels for building a human face for your brand. 
The conclusion is that social media is here to stay and needs to be included in your overall marketing strategy. Here are the main benefits of social media.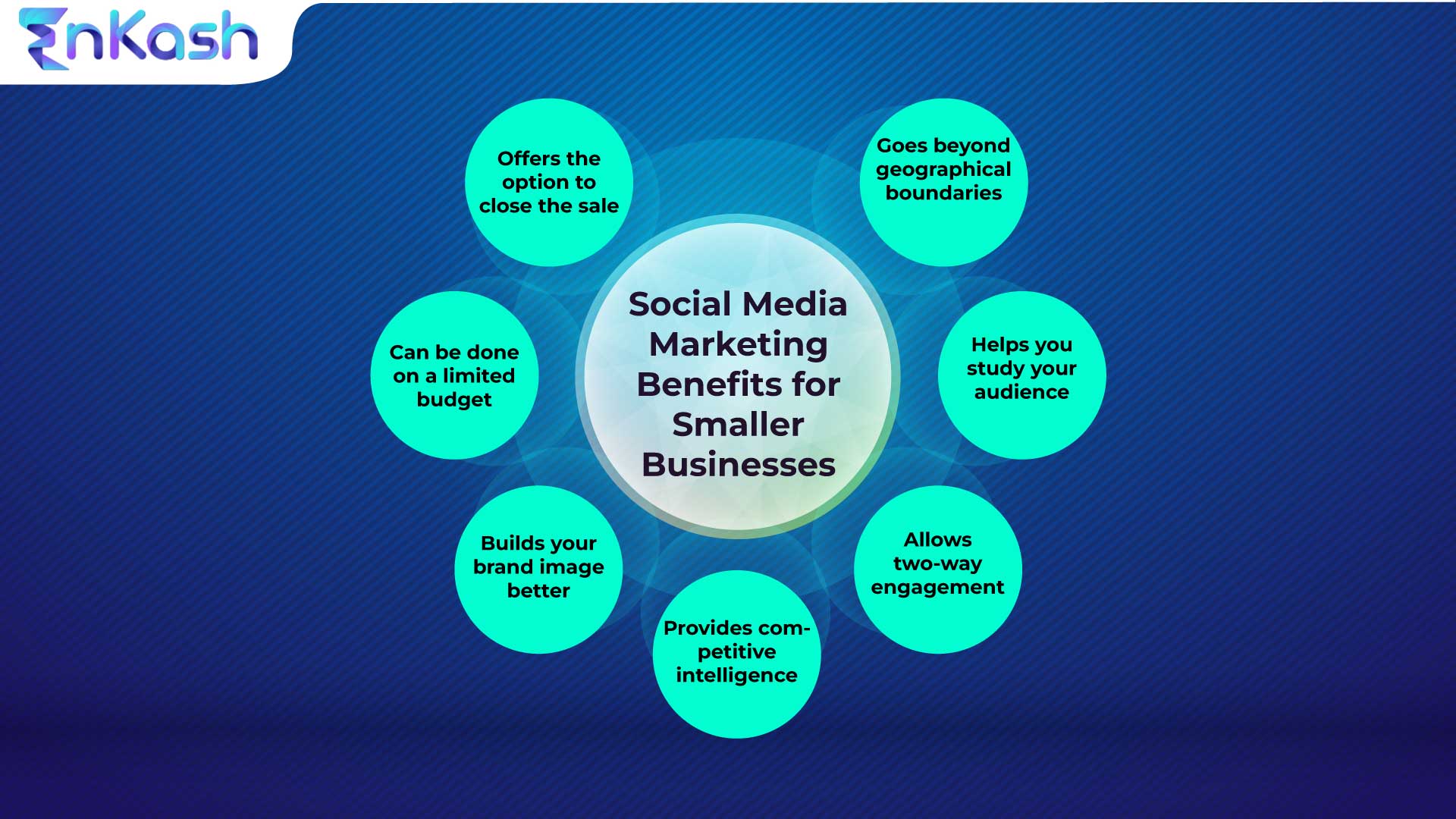 Social Media Marketing Benefits for Smaller Businesses
Getting results from your free social media efforts can take some time but it is well worth the effort that you put into it.
Goes beyond geographical boundaries
When it comes to social media for your small business, you have the freedom to choose the location where you want your content to be shown for paid advertisements. For organic efforts, too, you can choose to subtly restrict the geography or allow the content to be universally viewed. This can help with your expansion plans in the long run.
Helps you study your audience
Social media is one of the ways you can listen to the conversations your customers are having and study how they live their lives—both personally and professionally. For instance, you can study what your potential customers have to say by becoming part of forums they are most active. If you are selling finance software and join a forum for the CFO's office, then you can get information to tweak your product and messaging as per the discussion there.
Allows two-way engagement
In today's world, customers' voice is loud and clear. Customers like to express their feelings—both positive and negative on social media. The good news is that you can easily address their concerns or express your gratitude on the same platform. Doing this can help you build your brand and create a positive image for your business.
Provides competitive intelligence
While you plan to be on social media, so will your competitors. Often the best insights and intelligence can be gained from social media pages of your competitors. You can not only gain insights into the way they work but also get insight into how their customers feel.
Builds your brand better
Social media also offers you to showcase the human side of your brand, like employee activities, CSR, and more. All these factors are critical to today's customers and will help create a positive image of your brand across the web.
Can be done on a budget
You need not plan a huge budget for your social media marketing. A mix of paid and free campaigns with smart content will work easily for your social media plans. All you need is to orient your marketing team to start thinking about how they can use their content to resonate on social media.
Offers you the option to close the sale
Today social media offers you many options like allowing you to sell or teach customers how to use your product. When you use social media effectively, you will find that customer satisfaction goes up and the cost of post-sales customer service goes down.
As you can see, social media is a useful marketing tool for your business, no matter the size. However, as a smaller business, you have to make the right decision whether it is your social media marketing plans or your financial solution partner. At EnKash, as Asia's 1st and smartest spend management platforms, we have been empowering small businesses like yours to reach their fullest potential with our fintech products.